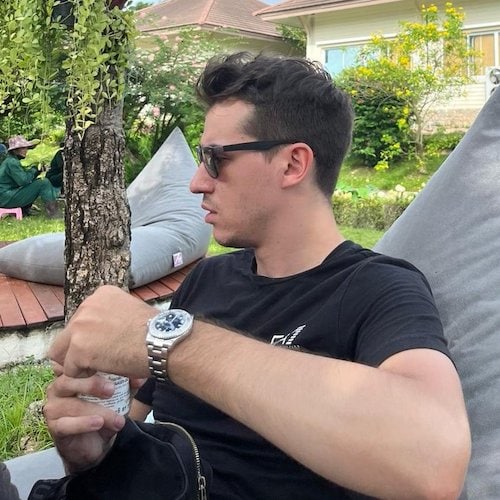 Charles Floate
"Mentors…Without those early people's influences, I wouldn't of had even a quarter of the success I've had to this day."
published: April 30, 2022
The Interview
1. Where do you live?
Chiang Mai, Thailand SEO Capital!
2. When did you start creating content?
2012 – Started creating content for the SEO and marketing community, as well as some video game networks on YT.
2009 – Started learning SEO.
3. Are you a full-time Creator?
Yes, since I was 17 in 2013
4. What was the "Click" that made you decide you can make full-time money online.
Matthew Woodward let me be the first person to guest post on his hugely popular blog at the time, and as a result, I got inundated with client and consultancy requests.
5. How many niche sites have you created?
Sites – 200+ with JVs etc included over the years
Online businesses – 10-12, sold 2 agencies for 6 figures and multiple six-figure site sales
6. How many are you still running now?
22
7. Have you sold any sites or online businesses? And what was the ROI like?
Yes, many, the ROIs on some have been into the tens of thousands of % due to literally a few thousand dollars of investment but huge amounts of time on my part and the pre-penguin algo's could be gamed very easily with contextual spam which didn't even have to be relevant and cost pennies on the dollar for the results you got.
8. How many sites or online businesses have failed or not gotten going?
It depends on how you describe failed, but I have definitely let projects fade into obscurity because of a lack of focus on them due to my own parts. I bounced around ideas a lot when I was younger, and only the last couple of years have I stuck to a more stoic approach. As a result though, I've definitely thrown away many millions of dollars.
9. How much are you earning each month?
10. What are your current streams of revenue?
Affiliate Sales
Books and eBooks
Digital Products & Courses
eCommerce
11. What are your Top 3 on-page SEO strategies?
I have a 3 part strategy that can outrank most niches alone for OnPage.
First, you build a topical hub with the individual pages all supporting the core theme based on extensive keyword research.
Then, we use MarketMuse content briefs for our writers to develop each page based upon dozens of seed keywords MM uses to develop a plan far superior to other content optimization tools – From our own testing.
Then you develop your URL structure and internal linking around your documents supporting each other based on a tier system of most competitive to the least competitive.
12. What's the biggest issue(s) that you're facing today?
Due to the HUGE amount of outreach the SEO community has been doing, almost every blogger you email nowadays already has their set price for links and more than often, those prices have started getting very expensive.
Link campaigns in general are getting more expensive due to email deliverability issues, link cost awareness amongst bloggers, tool subscription prices and world inflation – And it'll likely continue to increase over the next few years, as well as having more bloggers ONLY selling guest posts and links.
13. What tool(s) do you rely on the most?
I use Ahrefs the most, but have slowly been expanding my toolbox over the last several months to include smaller tools for things like keyword researching, indexing and link building.
PitchBox has been my goto outreach tool for the past 5+ years as well, and in my opinion has always been the best on the market for it too.
14. What has been the biggest mistake you made?
Not looking after my health properly when I was scaling my businesses so much at a young age. I focused too much on the work, and not enough on eating, sleeping and looking after yourself to the point I completely burned out and ended up in hospital. Health really is wealth, and it's cost me the most out of anything.
15. What has been the best decision you've made?
In general, networking with some of the world's best SEOs at conferences across the globe and in various underground chat rooms as a result of putting myself out there. There's only so much people will show online, and in person is where the real secrets get revealed.
16. What's one thing that you felt accelerated your journey the most?
Mentors. I was lucky enough to run into people who taught me more than anything I've read online and pointed me in the right direction everytime I needed it. Without those early people's influences, I wouldn't of had even a quarter of the success I've had to this day.
17. What's your 12 month goal?
I'm planning on moving from Chiang Mai to the Thai island of Koh Samui, focusing less on working and more on my general health and wellbeing. I've started to automate a lot of my assets now and have slowly started to mainly focus on consulting, which I can do from anywhere with a good internet connection. So within 12 months, I'll be taking my dog on walks by the beach every day.
18. How do you stay up to date on the SEO, affiliate marketing, display ad, and other news?
With SEO, I have continually running single variable tests that when algorithm updates roll around I can check to see which individual factors have been affected for – This, in my opinion, gives me a competitive advantage over 99.9% of the SEO market.
I also live and see other SEOs every week, discuss the latest news and trends and Chiang Mai has weekly SEO meetups you can attend for free as well.
19. What do you eat or drink for fuel to keep going?
I eat a lot of Thai food as I live there! But other than that, I get through a lot of imported steak from Japan or Australia every week too.
20. Where can people follow you?
My Twitter – @Charles_SEO is where I post the most, I don't blog anymore and I post videos every few months on YouTube, though I'm hoping to up that level of productivity fairly soon.
BONUS: Anything else you'd like to share that can help others?
I have a bunch of free and premium training for SEO and general digital marketing on my Gumroad here – https://charlesfloate.gumroad.com