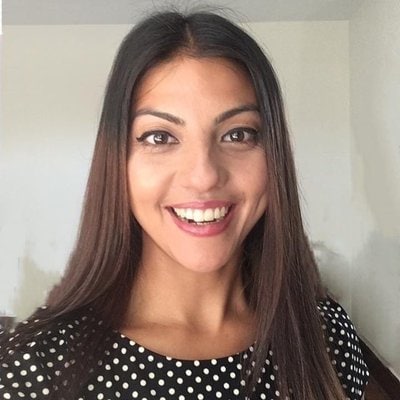 Aisha Preece
"I climbed up Everest base camp while running my freelance business and it was incredibly satisfying! I summited and the project paid for the entire trip, such a privilege."
published: May 21, 2022
The Interview
1. Where do you live?
Currently in Malaysia, but I am moving to Ireland but possibly Portugal if the housing crisis and rain in Ireland gets a bit too much
Malaysia is great for content creators, I highly recommend it!
Low cost of living, everyone speaks English, excellent food , great WIFI and even better beaches.
Great for saving too. My rent for a 4 bedroom apartment, with a pool, gym, sauna including bills is $500. I can eat breakfast and lunch for less than $5.
2. When did you start creating content?
End of 2017, I set up my first site , did absolutely nothing with it due to analysis paralysis. Then when I finally did take action, I did all the wrong things ie didn't learn SEO.
Finally got my act together at the end of 2020 and learned SEO. There has been a steep growth and income trajectory ever since.
3. Are you a full-time Creator?
Yes, I only have one colleague who works with me everyday, my grumpy cat, Supervisor Sandy.
I stopped taking on freelance clients in Jan 2021 as I qualified for Mediavine then and my site income was enough to pay my bills, travel and save for my future.
4. What was the "Click" that made you decide you can make full-time money online.
For me, it was reading the income reports of other bloggers. Because others were so transparent and open to share their income, it gave me hope and courage that I could do the same
Which is why I always share my income screenshots in my Instagram stories. Anyone can claim they earned x,y,z, but I like to share proof to build trust, credibility and hope, so others can try to do the same.
It does rub some people up the wrong way though, but I just tell them leaving negative comments and messages won't pay their bills 🙂
5. How many niche sites have you created?
A total of 5 . I am constantly resisting the urge to set up more, but I promised myself no more until I get 2 more into Mediavine!
After I left my soul-sucking corporate banking job of 10 years, I ran an online teaching business, then a freelance writing business and finally an SEO/blogging coaching business.
I was fortunate enough to earn a decent income with each, but I decided to focus all my attention on my niche sites, as I enjoy building profitable niche sites the most!
6. How many are you still running now?
5
7. Have you sold any sites or online businesses? And what was the ROI like?
Nope but I plan to in the near future. I want to buy a little farmhouse with land, so I can plant vegetables, have an alpaca, hike /bike every week and live a simple life.
I have zero interest in living a flashy lifestyle. Why buy a lamborghini if you can use the money to ski in Bosnia & Herzegovina and hike through the Himalayas with your friends and family instead ?
8. How many sites or online businesses have failed or not gotten going?
None. But I feel like this is a rite of passage so I will embrace it if it happens.
I truly believe failure is a necessary part of success. No one escapes challenges but it's what you do when it happens to you, that will make the difference!
9. How much are you earning each month?
10. What are your current streams of revenue?
Affiliate Sales
Display Ads
Books and eBooks
Digital Products & Courses
Workshops
11. What are your Top 3 on-page SEO strategies?
1 – Find a low competition keyword, with some search volume, that has low domains on page 1.
-I go for a search volume of more than 50 and a competition score of less than 30.
-I use Keysearch and Moz.com to determine this
2 – Put that keyword in all the right places, ie H1, H2, first 100 words, meta description, URL,file image . Actually you can find the checklist of places to put that keyword here.
3 – Write a useful piece of content on the topic that answers the question . Imagine you Googled that topic, would you be happy with the article you just wrote? Did it answer all your queries ?
Final tip – Create clusters of content and interlink them. I write a minimum of 10 articles in one cluster, it helps you gain topical authority on the topic.
12. What's the biggest issue(s) that you're facing today?
Knowing the next right step.
Running sites fully reliant on Google and affiliate income is risky- one Google update and I could be burnt toast.
So I am trying to diversify risk and income with alternative traffic strategies, an email list and digital products.But this takes time and energy.
I am constantly reprioritising and allocating my time and energy to this diversification process. It can be tiring, especially when you are trying to figure this out alone.
But…. I could be dreading my office job and my bully boss's coffee breath every Sunday like I used to… so, actually I can't complain. Running niche sites is a privilege, I am so grateful.
13. What tool(s) do you rely on the most?
Keysearch
Moz.com
Google docs /sheets
Loom
I like to keep my life simple and don't use that many tools.
I run my entire team of 30 freelancers using Google docs, Google sheets, Loom and voicenotes over Instagram.
I take ages to answer emails, so if anyone in my team or in my community wants a fast response, they send me a DM on Instagram and I'll respond with a voice note. Keeps things personal and efficient
14. What has been the biggest mistake you made?
1 – Not learning SEO sooner
2 – Listening to the advice of people who weren't in my niche , they gave me non-relevant advice.
Example- Did you know personal finance sites don't do well on Amazon but you can earn really well from courses?
Spent ages beating myself up calling myself a failure because some expert told me I should be earning well on Amazon Affiliates for my personal finance site. Decided to watch and learn what others in my niche did and then my income shot up overnight.
15. What has been the best decision you've made?
1. Investing in SEO / Blogging courses. I know there is plenty of info online, but having a structured strategy works for me.
2. Also, I stopped trying to prove myself to the naysayers.
Here is a life tip: If you struggle with getting support when you start, people will have NO PROBLEM believing your business once you are making decent money 🙂 Just focus on doing the work and get the results.
3. Investing time creating blogging and SEO tips on instagram.
I ended up building an engaged community who buys my products and I've built my entire team from the platform.
I used to think that Instagram was for perfectly curated influencers with flawless skin, but then my raw unfiltered videos with uncombed hair sharing tips seem to resonate with a lot of people.
There is an audience on Instagram hungry to learn about SEO/niche sites and buy products relating to it. Try it 🙂
16. What's one thing that you felt accelerated your journey the most?
1. Taking the SSEO and NCA course from Mike Futia. That guy changed my life and really helped me get my head around SEO and niche sites.
He's very practical. Do x, y and z. Zero bullshit. I like that. That's how I like to learn and that's how I like to teach.
2. I also love reading Jon Dykstra's emails and income reports.
He teaches me that you can be extremely successful, run your team with simple tools and also make time for your community. He's such a nice down to earth, smart guy .
People will forget what you did or said but they never forget how you made them feel. Jon made me feel empowered at the beginning of my niche site journey, I hope I help my community feel that way.
17. What's your 12 month goal?
I would really like to get 2 more of my niche sites into Mediavine, create more digital products for my niche sites and automate them with email funnels.
I would also like to do a cycling trip around Malaysia and a motorbike trip around Vietnam , while working on my niche sites.
I climbed up Everest base camp while running my freelance business and it was incredibly satisfying! I summited and the project paid for the entire trip, such a privilege.
I always dreamed of having this work life adventure balance when I was stuck in my stuffy corporate job cubicle – I intend to live my dreams to the fullest while I still have my health!
18. How do you stay up to date on the SEO, affiliate marketing, display ad, and other news?
I join the email newsletters of SEO experts
I listen to podcasts everyday while exercising, cooking, folding clothes
I often buy new SEO courses to keep up to date, it's the only thing I spend on in my life apart from food and travel.
– Although I am adept at SEO, I am not arrogant enough to think I know everything, I am always open to learning new things from others 🙂
– My brain is the single biggest asset that will take my business to the next level, so I invest in it continually to keep it sharp.
19. What do you eat or drink for fuel to keep going?
A blueberry banana oat smoothie and a strong cup of Barry's tea. I am English with a deep love for Irish tea 🙂
20. Where can people follow you?
Newsletter – I share SEO/Blogging tips every Wednesday. For example, recently, I shared my exact keyword research process in a video, for free because why not? 🙂
Instagram – New video tips everyday. Best way to get hold of me.
Twitter – I'm new to this but enjoying it so far, there is an amazing supportive community of niche website owners on there.
BONUS: Anything else you'd like to share that can help others?
Final tip:
Content content content.
If you are sitting there struggling to get traction to your site, 9/10 times it's likely you haven't published enough quality content with proper keyword research . I don't worry until I have at least 100 posts on my site first.
You can learn how to find excellent keywords you can rank for and how to write content that google loves, with my SEO Blog training course.
I remember when I was livin' la vida broka once upon a time, so I try to keep my SEO and blogging course prices affordable . Also shoot me a DM on Instagram if you need tips or guidance, providing you are respectful and don't send me weird foot pics, I always reply 🙂