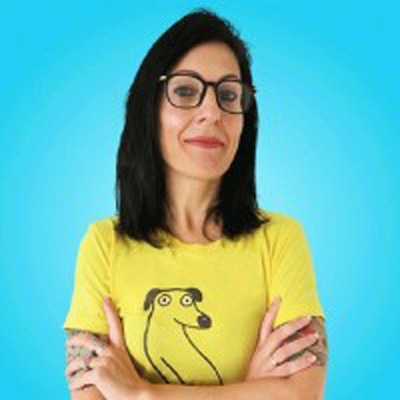 Rachael Pilcher
"Travel is a great way to get fresh perspectives on people and the world, no matter what you're writing about. It's also a great incentive to work smarter so your money doesn't run out haha"
published: October 15, 2022
The Interview
1. Where do you live?
I'm from New Zealand originally, but I've been doing the digital nomad thing since 2016 – growing my copywriting business and starting niche sites as I travel. I don't have a home base, but I go back to NZ every couple of years to visit family and hug my pug.
Travel is a great way to get fresh perspectives on people and the world, no matter what you're writing about. It's also a great incentive to work smarter so your money doesn't run out haha
2. When did you start creating content?
Embarrasingly, I had a couple of attempts at creating a niche site in 2016 and 2018, but I gave up on them. In hindsight I should definitely have kept those, so that really annoys me!
My current herd of blog sites started in 2020 when Covid hit and all my copywriting projects and retainers got cancelled in the space of 3 months.
I suddenly had a lot of time on my hands to research, plan, and write content, and it felt like a good time to start creating some extra income streams that weren't reliant on client work.
3. Are you a full-time Creator?
No – it's about half my time at the moment. I still enjoy copywriting as a career, and that income gives me enough runway to outsource a good amount of monthly content for my sites.
4. What was the "Click" that made you decide you can make full-time money online?
If I got to the point where I could earn 10k+ a month and fully replace my freelance business income, I'd consider going full time as a content creator
5. How many niche sites or online businesses have you created?
My online business journey started in 2005 – I built a small fashion ecommerce store, which grew into two retail boutiques. I sold that business after 10 years, and then dabbled in Shopify and Etsy stores for a bit until deciding to travel full time.
6. How many are you still running now?
I currently run my freelance copywriting business and 8 niche sites. I keep having more ideas and buying domain names (I'm sure most people reading this can relate!), but that's enough sites to run for now haha
7. Have you sold any sites or online businesses? And what was the ROI like?
Not yet. And I'm not sure I would want to sell one unless it could fetch a ridiculous amount of money. Even my new sites that are only making a couple of dollars a day still feed into my total monthly income without much work from my end, and that helps support my hipster coffee and fancy cheese habits
8. How many sites or online businesses have failed or not gotten going?
2 niche sites – I didn't really have a clear direction for the content, or a good handle on SEO or keyword research back then, so my motivation fizzled out quickly
9. How much are you earning each month?
10. What are your current streams of revenue?
Affiliate Sales
Display Ads
11. What are your Top 3 on-page SEO strategies?
I tend to look at my pages mostly from a copywriting perspective, more than from an SEO perspective I guess' with the goal of doing everything possible to keep a person on the page longer.
Outside of the obvious internal linking etc. I do things like:
1. Make sure the intro is short, catchy, and in bold type to draw the reader's attention, and that it neatly summarizes what you're about to tell the reader in the article, without giving everything away. If your blog intro is crap, you're already losing the battle to keep readers on your page
2. Make the content easily skimmable with plenty of subheadings so readers can find the info they want if they're scrolling through. If you've ever used a tool like Hotjar to see how people are moving through pages on your website, it's crazy. A lot of people scroll to the bottom of a page first, and then start reading upwards (which renders a table of contents kind of useless) – so whichever way a reader is going, make sure they can find what they need!
3. We're all short on time and wanting to find info quickly, so avoid giant walls of text, and use bullets, diagrams, tables, images etc to break up long paragraphs and make things visually interesting things for your readers
12. What's the biggest issue(s) that you're facing today?
The onslaught of Google updates recently has been pretty stressful. My main site got slammed at the end of the July update and lost around 70% of traffic. It's started to recover after the September update, but that pretty much killed all my motivation for the last couple of months!
13. What tool(s) do you rely on the most?
KeySearch, Google's autosuggest, Moz Bar extension, and Keywords Everywhere
14. What has been the biggest mistake you made?
Definitely spreading myself too thin over multiple sites, in terms of the time and money I have for research and content creation. On the upside though, this means my risk is spread out as well, and I'm not relying on a single site that could get taken out at any time by algorithm changes.
15. What has been the best decision you've made?
Starting! Literally just getting one site live with a few articles on it, and seeing that very first $0.06 Amazon commission come in (best day ever) was enough to get me thinking…hmm…this just might work.
16. What's one thing that you felt accelerated your journey the most?
I'm a course junkie, so Fat Stacks, Authority Hacker, and Stupid Simple SEO were really helpful to dig into the basics of choosing a niche, different methods of doing research, different types of content, and setting up sites with a good structure. I tend to just pull out the bits I like from courses I take, and then patch together my own strategies based on that.
17. What's your 12 month goal?
To double my monthly revenue.
18. How do you stay up to date on SEO, affiliate marketing, display ad, and other news?
Forums and groups like Fat Stacks and Niche Pursuits. Also the Search Engine Roundtable site, Twitter, and there are some great YouTube channels out there like Passive Income Geek.
19. What do you eat or drink for fuel to keep going?
Usually a stern black coffee, but I'm in Turkey at the moment and I've become addicted to drinking Ayran, which is kind of a salty, watery yoghurt drink. It sounds gross, but it makes me feel super switched on for some reason!
20. Where can people follow you?
I'm most active on Twitter – feel free to give me a follow or drop me a message.