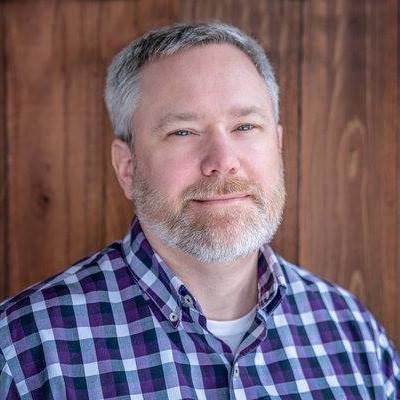 Matt Campbell
"Write to connect to your readers. Create a relationship with them as much as possible. Comments, emails, and contact forms are gold. Start an email list yesterday!"
published: July 30, 2022
The Interview
1. Where do you live?
Las Vegas, NV. We have a community of bloggers that support each other and an active local WordPress group too.
2. When did you start creating content?
I owned a mobile DJ service and created a website for my business in the 1990s. When I moved to Las Vegas, I didn't want to start all over again. Thus, I created a broadline wedding planning site to rival the big guys in the mid-2000s.
The issue was that I was a big fish in a small pond. It took me WAY too long to figure this out but eventually rebranded and refocused just to song suggestions in 2017.
3. Are you a full-time Creator?
Yes, I went full-time January 2020. So glad we prepared for the worst when I quit my full-time job to get us through the downturn.
4. What was the "Click" that made you decide you can make full-time money online?
The biggest thought transition was when a fellow blogger mentioned Mediavine. This was a game-changer in the way I thought about how much I could make. The community of Mediavine bloggers is phenomenal along with everyone's willingness to share their experiences. My RPMs skyrocketed and earnings eventually surpassed my full-time job.
5. How many niche sites or online businesses have you created?
I created my first content website, but it was a terrible name so I rebranded the website. I started a second site last year. However, time is an issue in order to grow it.
6. How many are you still running now?
Two – A content site and a subscription platform.
7. Have you sold any sites or online businesses? And what was the ROI like?
I have never sold a website. I will probably sell domains in the future. Maybe someday a publicly traded company will reach out to buy me??
8. How many sites or online businesses have failed or not gotten going?
Like I have said above, having a non-niche focus website failed.
9. How much are you earning each month?
10. What are your current streams of revenue?
Affiliate Sales
Display Ads
Books and eBooks
11. What are your Top 3 on-page SEO strategies?
1 – Authority content
Your readers and Google expect you to be the authority on the topic on which you are writing about. Answer all of the questions related to the topic. Use headings to make all of the content skimmable and easier to read.
Google your topic and see what your competitors are writing about. What additional content can you add to your article that is different than your competitors but a huge benefit to your readers?
You are supposed to be the authority – so be one!
2 – Updating content
It's a merciless world out there. If you are in the top 3 in the search results, someone is trying to knock you out. Someone is always better than you by creating more informative content, adding new information, and satisfying the user intent just a bit better than you.
It is vital to go back and update the content at least every 6-12 months. Of course, start with your most important pieces.
3 – Content Hubs
I think the word silo is overused, so I will say content hubs. Instead of creating blog categories, create hub pages that link out to all of the content in that specific hub. Don't leave the content to the pagination black hole.
All of my key pages are within 3 clicks of the home page. This is accomplished with the hub pages. The hub pages also keep you focused on what to write about and interlink-related pages within the hub.
Hub pages also create a better user experience because you can have your best content at the top and organized on the page.
12. What's the biggest issue(s) that you're facing today?
My biggest issue that keeps me awake at night is having the majority of my revenue from one website. Diversification is a key goal. Some plans have been laid to create additional forms of income – fingers crossed.
13. What tool(s) do you rely on the most?
The tool I use on a regular basis is Screaming Frog. I love the feature of connecting GA and GSC for running reports – and finding link issues, etc.
Screaming Frog
Google Sheets
Google Analytics
Google Search Console
Semrush
Keyword.com
14. What has been the biggest mistake you made?
Proving you two big mistakes.
1 – Not niching down sooner. The light switch went off when I focused and became known for something. I was also able to connect with readers better.
2 – One of my competitors (a publicly traded company) reached out to me in the first couple of years and I totally passed on the conversation. I get teased by family to this day for this mistake. This was a bit of a blessing because ever since then, I accept every opportunity to grow my business.
15. What has been the best decision you've made?
As stated above, rebranding and niching down the theme of the blog.
16. What's one thing that you felt accelerated your journey the most?
The turning point was reading the book – "Play Bigger: How Pirates, Dreamers, and Innovators Create and Dominate Markets" by Al Ramadan, Dave Peterson, and Christopher Lochhead in 2016.
The book changed my thinking that I should be a category king on my specific topic. I was even mentioned in a subsequent book, " The Category Design Toolkit" by Christopher Lochhead, Eddie Yoon, Nicolas Cole.
17. What's your 12 month goal?
My 12-month goal is to reach 1,000,000 monthly pageviews. Few solopreneur bloggers can say that they have reached this goal. Obviously, more page views also result in increased revenue which makes the CFO happy (my wife).
18. How do you stay up to date on SEO, affiliate marketing, display ad, and other news?
I have been following Barry Schwartz for quite some time with newsletters and Friday's updates.
Marie Haynes and Ross Hudgens have been a favorite.
Recently I started following niche-specific creators on Twitter. The SEO community on Twitter is amazing. Lots of great inspiration!
19. What do you eat or drink for fuel to keep going?
I am a daily iced tea drinker for a dose of caffeine. However, being a craft beer lover, I love supporting local breweries that produce Amber & red beers. October is my favorite time of year for Octoberfest-style beers.
20. Where can people follow you?
Find me on all major platforms. My main business is My Wedding Songs.
You can reach me on Twitter.
BONUS: Anything else you'd like to share that can help others?
Karma is a real thing. Be kind. Give back and help others. One of the ways I have been able to do so is by becoming the organizer of my local blogger's meetup.
Share what you have learned and teach others how to fish – don't just take them to the grocery store. If you are creating a blog to get rich quickly – quit now. This is a marathon, not a sprint.
Write to connect to your readers. Create a relationship with them as much as possible. Comments, emails, and contact forms are gold.
Start an email list yesterday! An email list is something that Google, Facebook, TikTok, etc. can never take away from you. Email your list at a minimum of once a month with something that will benefit them.
Do not ever try to be better than someone else. Be different! This is what will make you stand out and how you will be remembered.