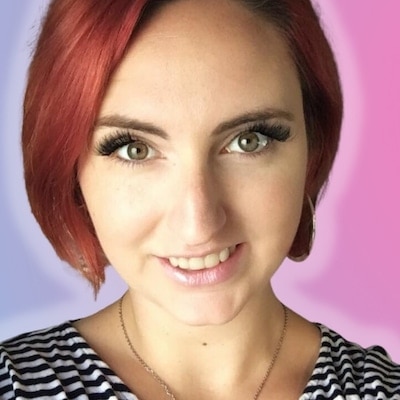 Jessica Lauren Vine
"My strategy…[is] to build a brand and business that is going to last the long term. My goal is to have a site that I can be proud of if I ever want to put it up on a billboard."
published: October 29, 2022
The Interview
1. Where do you live?
The lovely and beautiful Knoxville, Tennessee. Home of the friendly southern folk that love collard greens and cornbread.
An amazing place to live as a content creator because you get the city life but you're also a short drive from the country. You can easily pop over to Pigeon Forge and Gatlinburg – which are amazing.
2. When did you start creating content?
My first time creating content was waaaaay back in 1998 when Yahoo still had "clubs." I had a "club" called Advice You Need and grown adults would come ask for advice on many life issues. Thankfully, I watched Dr. Phil 5x a week and I was apparently pretty helpful. hahah
3. Are you a full-time Creator?
No. I recently took up real estate investing as well so I also flip houses (however, it isn't time intensive since I have an amazing team).
4. What was the "Click" that made you decide you can make full-time money online?
I don't believe in only have one way to make money. Being a creator is amazing and I really enjoy it but I like having "online real estate" and "offline real estate." This allows for risk mitigation for my bank account… hahah
Most people I know either want to be full time creators or full time real estate investors but I want to do both. And I think either goal is fabulous."
5. How many niche sites or online businesses have you created?
Oh my goodness. I couldn't even count. lol
I've been at this for over two decades. I would buy a domain, start a site, put some content up and let it die. So many times. I would say at least 5 times I let sites die. haha
That didn't help my confidence very much but I worked with an affiliate program with great affiliate managers that held my hand until I made money or who knows… I might have quit this awesome business altogether.
6. How many are you still running now?
1
7. Have you sold any sites or online businesses? And what was the ROI like?
I did sell two of my niche sites. They kinda went hand in hand so the same buyer bought them. This was back in 2012. I wish I would have kept them now and built them up more but I didn't due to having no will to do much of anything (I lost my mom and it was terrible). So, basically, I let my emotions control what I did and thought I would build the passive income up again "pretty easily" lol!!
Honestly, I think the emotions and delayed gratification really got me and kept me from taking a site as far as it needed to go again for a long time. However, about 3 years ago I bought a domain again and put a little bit of content up.
(I had still been working in the niche website space but helping other people get rich because I was writing their content vs writing for myself. Doh.)
July 2021, I decided that I was really going to go for it again and I've been working at it ever since.
Literally throwing time, money and much brainpower at it.
My strategy isn't to make money as quickly as possible (which is great) but it's to build a brand and business that is going to last the long term. My goal is to have a site that I can be proud of if I ever want to put it up on a billboard.
Focusing on informational content that helps my readers and I can direct people to that I might be talking to and they need a solution.
This month the site has brought in $15.87 in affiliate sales from one niche affiliate program, $52.81 in affiliate income from Amazon, and $81.62 in display ads
I know how compounding works with these sites and the hockey stick goodness, so while these numbers seem low and I am investing money in content experts and consulting with amazing pros to make sure I get it right and I stay plugged into masterminds and Facebook groups and the delayed gratification is annoying (lol), I know the results that are coming and they're worth it.
8. How many sites or online businesses have failed or not gotten going?
I'd say 5
9. How much are you earning each month?
10. What are your current streams of revenue?
Affiliate Sales
Display Ads
11. What are your Top 3 on-page SEO strategies?
1. I love doing the frequently asked questions to pull in that little extra from the SERPs from "People also asked"
2. Having my writers share their personal stories within the content to keep readers on the page longer and clicking through.
3. Interlinking to other highly relevant articles.
12. What's the biggest issue(s) that you're facing today?
My biggest issues are having the patience to sit down and update all of the product displays so they convert better. I think people (including me) don't pay enough attention to getting better conversion rates on their affiliate product pushing pages.
13. What tool(s) do you rely on the most?
Google… lol
I also love Upwork to find the best writers. 🙂
14. What has been the biggest mistake you made?
Not going all in on my site sooner.
15. What has been the best decision you've made?
To stop letting the results I have now stop me from getting the results I know are coming in the next 12-18 months.
16. What's one thing that you felt accelerated your journey the most?
Getting coaching and advice from people that know what they're talking about definitely played a huge role. Some of the people that I used to get help from long ago are retired on beaches in Mexico. hahah But I really value Authority Hacker's course. Good stuff!
17. What's your 12 month goal?
My goal in 12 months is to have at least half a million visitors per month
18. How do you stay up to date on SEO, affiliate marketing, display ad, and other news?
Twitter lol
19. What do you eat or drink for fuel to keep going?
Water and coffee lol
20. Where can people follow you?
@jessicalaurenvine on YouTube & Instagram
@jessicalvine on Twitter
BONUS: Anything else you'd like to share that can help others?
It is easy to talk yourself out of getting started because you wish you'd started before. (Even if it is a restart.) Just put one post up and then two and then three and keep building. All the while, make sure you're learning and getting 1% better every single day. 🙂